I got a new steering rack in the car now. I also have roll center adjusters on the front control arms now to help with the handling.
The 0.64 A/R, iwg GT2871R turbo is on with the Swain coated and Extrude Honed OEM manifold. I chose to use the OEM manifold for a few reasons:
It's strong
It's compact
It's actually properly divided which should mean more response
the collector matches the turbine flange perfectly thus no turbulence
This will actually get me to 400 whp
I'll have $500 invested instead of $1200
The S14 runners are actually larger than the S13 manifold's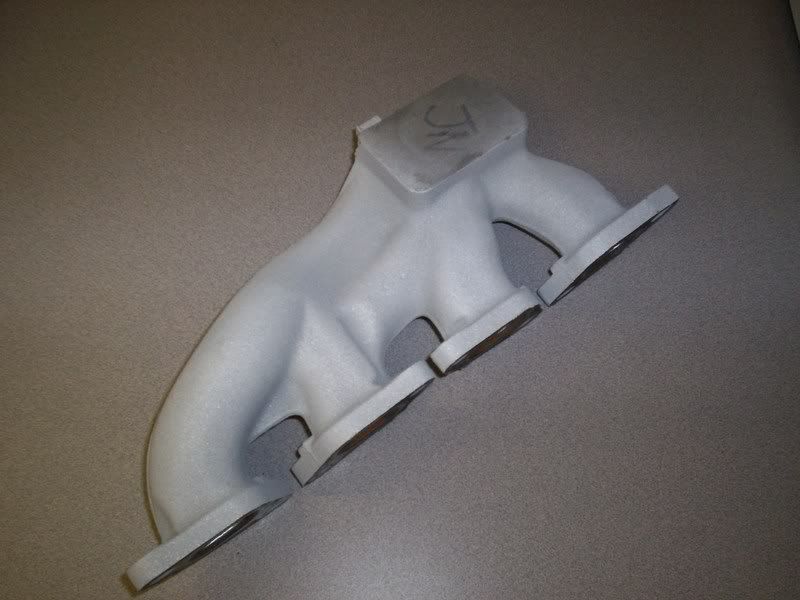 I'm struggling a little with finding nice ways to plumb the compressor piping. It looks like I will have to fab a new hot pipe somehow. I can probably find an off-the-shelf suction/intake but I haven't found one I like for the right price. All it needs is to be 3" and "S" shaped. I have to find a way to
bolt
on the Apexi air filter too, they don't slip over the pipe like most other filters.
Some cell phone pics with the turbo on.
Next up:
Tune it in two weeks on the Power FC and Datalogit software - I'm taking a class to learn how to do it myself. So I'll be tuning my own car in the process
Replace my front wheel bearing
install fuel stuff (injectors, FPR, etc) and tune again.
Duct my radiator - not sure how yet. I suck at fabrication. I might just get a new radiator first. Probably a Griffin since they supposedly have one of the higher tube density's on the market.
Fabricate and install the lower cooling panel under the front bumper
Add brake ducting stuff (removed hubs, install carbon fiber ducts, install NACA ducts in bumper, run hoses)
Finish the head build. Still need random parts like seals, shims, oil tubes, etc.
I have a better suspension on the way. Goodbye Teins. Hello Bilstein!
Get a real, fitted, side mount race seat