Tru-cool oil cooler L7B. I have the -10 adaptors for it.
Canton thermostat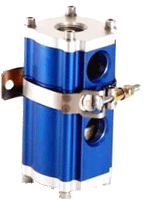 oil block adaptor (replaces plate where oil filter goes)
The remote filter is a Mocal and is typical right to left configuration (with filter hanging from bottom).
Other than the -10 adaptors for the oil cooler and what was included with the oil block adaptor I don't have any other fittings.